How to add an external domain to your netcup webhosting.
With our current netcup web hosting tariffs, you can use two types of domains: netcup domains registered with us and external domains. External domains are registered with another domain provider. For adding a netcup domain to netcup web hosting, we have prepared instructions for you elsewhere.
In the following, you will learn how to add an external domain to a netcup web hosting.
Depending on the tariff, a limited number of free external domains may be included (which is the case for most current products). For all other tariffs or if the number of free external domains is used up, external domains can be booked according to the currently valid price list. We only charge a one-time setup fee, which will be clearly shown to you during the process. No further costs are incurred.
When using a Reseller web hosting product, you can add external domains directly in the Plesk hosting panel, as described in our Reseller web hosting manual.
Management of the external domains
Log into your Customer Control Panel (CCP) and click on "Products" in the menu on the left. Click on the magnifying glass in front of the web hosting tariff for which you want to add an external domain and switch to the tab "External Domains".

If you have already created external domains, you will see a list of the external domains here. In addition, the respective status of the external domain is displayed.
Delete external domain
All data assigned to the domain will be lost (web space content, email inboxes, apps, users and more).
Clicking on the recycle bin icon removes an already created external domain from your web hosting account.
Add external domain
To create a new external domain, please enter the desired domain name in the input field below and click on "Add external domain"
The following screenshot is an example. The individual settings for your external domain may differ.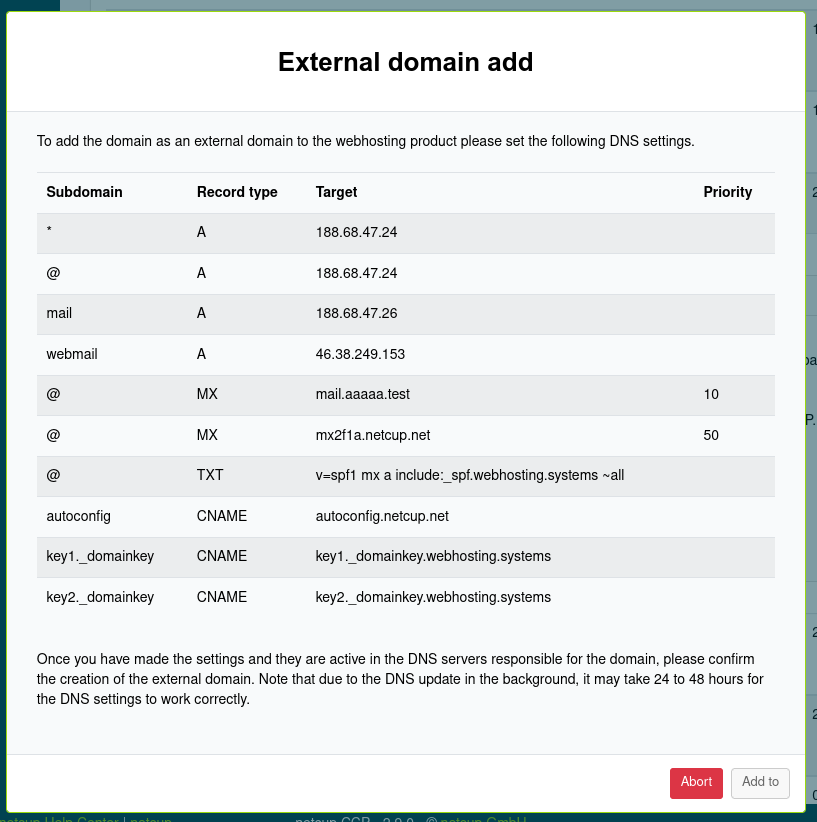 You will then see a note. This note contains all the relevant DNS settings that you must set for your domain in order to be able to use it in your web hosting account. As soon as you have made the settings please confirm the creation of the external domain by clicking on "Add to".
It is not possible to use our nameservers for hosting the DNS records of the domain. The DNS records have to be set with your provider, using their name servers.
The support of your domain provider will tell you how to edit the DNS settings of your external domain.
Please note that all DNS entries must be applied in order for the domain to be added. If DNS entries are missing, adding the external domain may fail.
Only when the DNS settings are correctly and completely set, the domain will be created on the servers responsible for your web hosting account. Our system checks every hour whether the DNS settings of your domain have changed. As soon as they are correct, your domain will be added to your web hosting account as an external domain. You will be informed about this by e-mail. Since your web hosting account works on a cloud infrastructure, setting correct DNS settings is mandatory. The resources of the cloud infrastructure are allocated according to utilisation.