In this chapter, we provide you with a step-by-step guide on how to order Webhosting from netcup.
1. Choosing the right product
You may always upgrade to a higher tier at a later date. Please note that downgrading is not possible.
netcup offers a wide range of Webhosting solutions, depending on your needs. Please consider your specific requirements, such as what you plan to do and how many databases you will need. Note that you can order additional netcup domains later if needed.
Once you have selected a configuration, go to the netcup Homepage: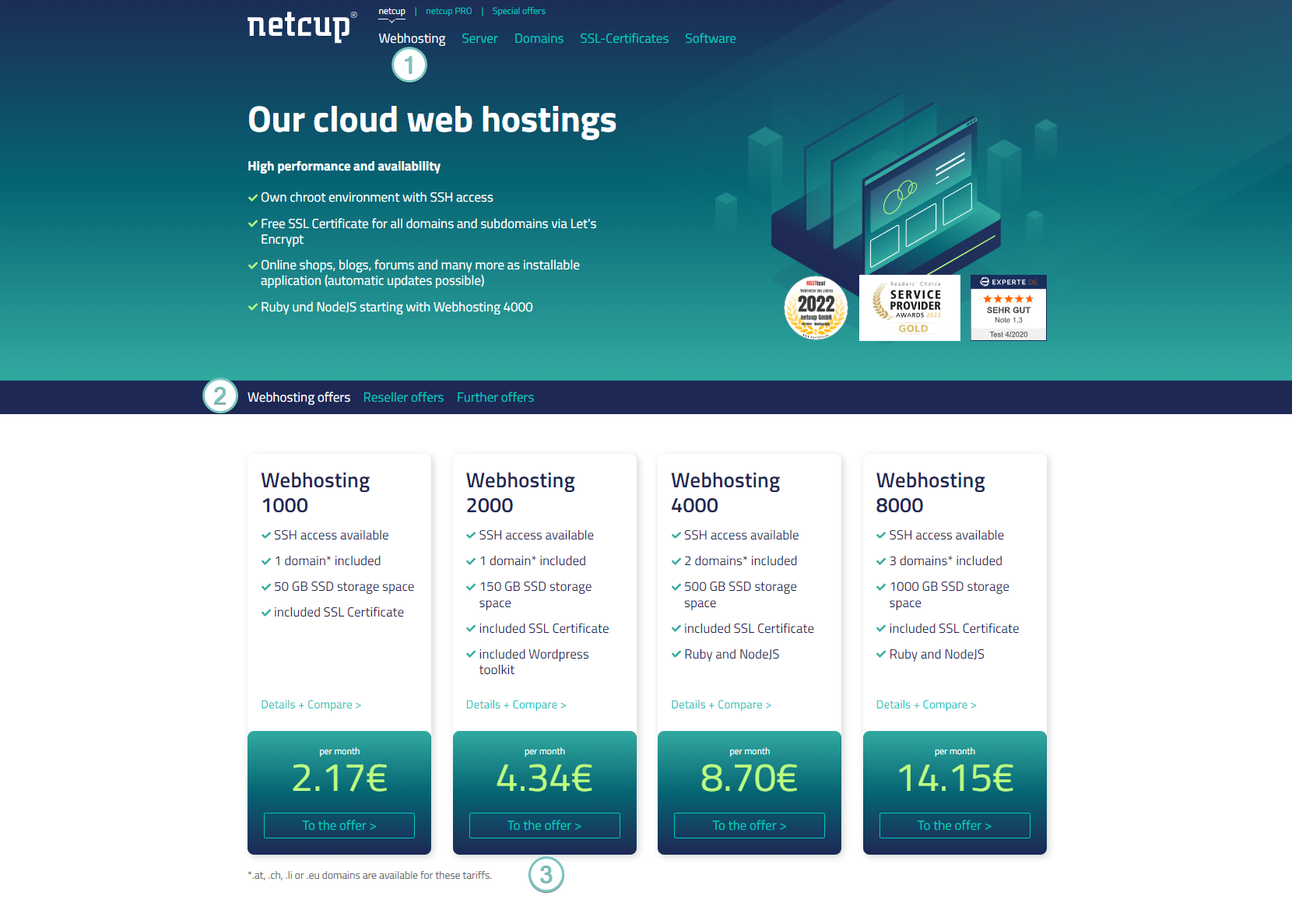 Find your preferred configuration and click on the "To the offer" button.
2. Adding to the cart
Depending on your choice, a page will be displayed showing the exact details of the product you have chosen. The information is presented in the form of several detailed, but easy-to-understand lists. This also includes a simple summary of your contractual obligations and the product details, including monthly prices and contract duration.
If you have verified that the product meets your needs and you are ready to proceed, click on "Add to cart":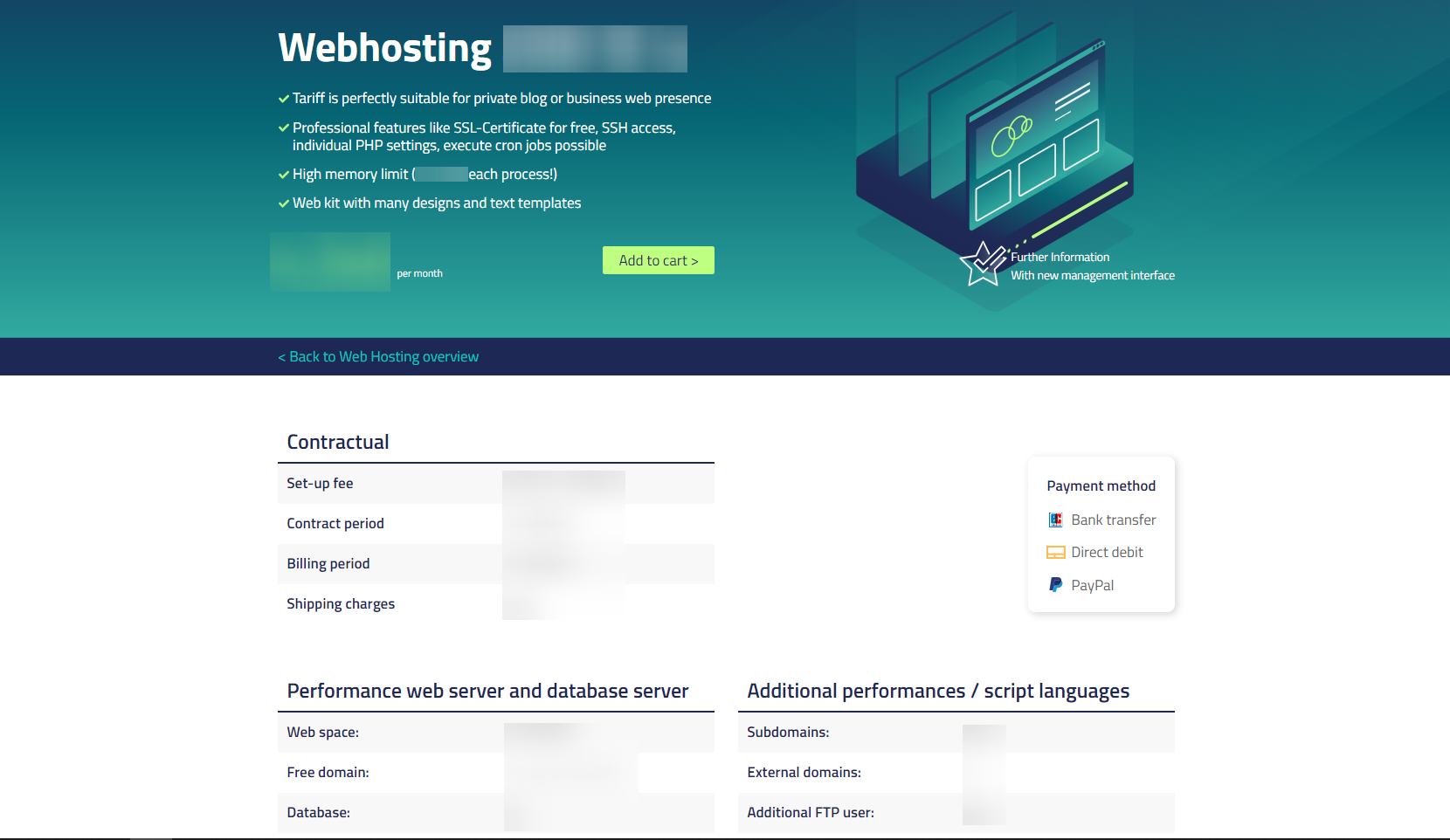 After you have put the product in your shopping cart, you can continue shopping for more services with the button on the left side ("Continue shopping, I want to complete the order later") or go to the shopping cart by clicking the button on the right side ("Open cart to complete purchase"):

3. Shopping Cart
Using a coupon readds the product to your cart. Please ensure that you do not order an identical product multiple times by checking your cart.
If you have received a coupon from an existing netcup customer or as part of a promotional event, you may use it here.
Coupons may not be combined with netcup sales.
There are seasonal netcup sales, during which we reduce the pricing on many of our products. Keep a look out for these.
In the shopping cart, you can review your purchase or apply a coupon.
Depending on the chosen product, you may also select the top level domain for the included domains as part of your package via the drop down menu. The domain name is to be typed in the field without the top level domain.
If you haven't decided on a specific domain name yet, you can do this at a later time via the Customer Control Panel (CCP). Please note however that you will have to select the top level domains for your included domains during the order.
Please triple-check that any domain names and top level domains you have chosen as part of this step are correct, as these cannot be changed at a later date.
If you are satisfied with your selection, click on the "Continue order" button at the bottom of the screen: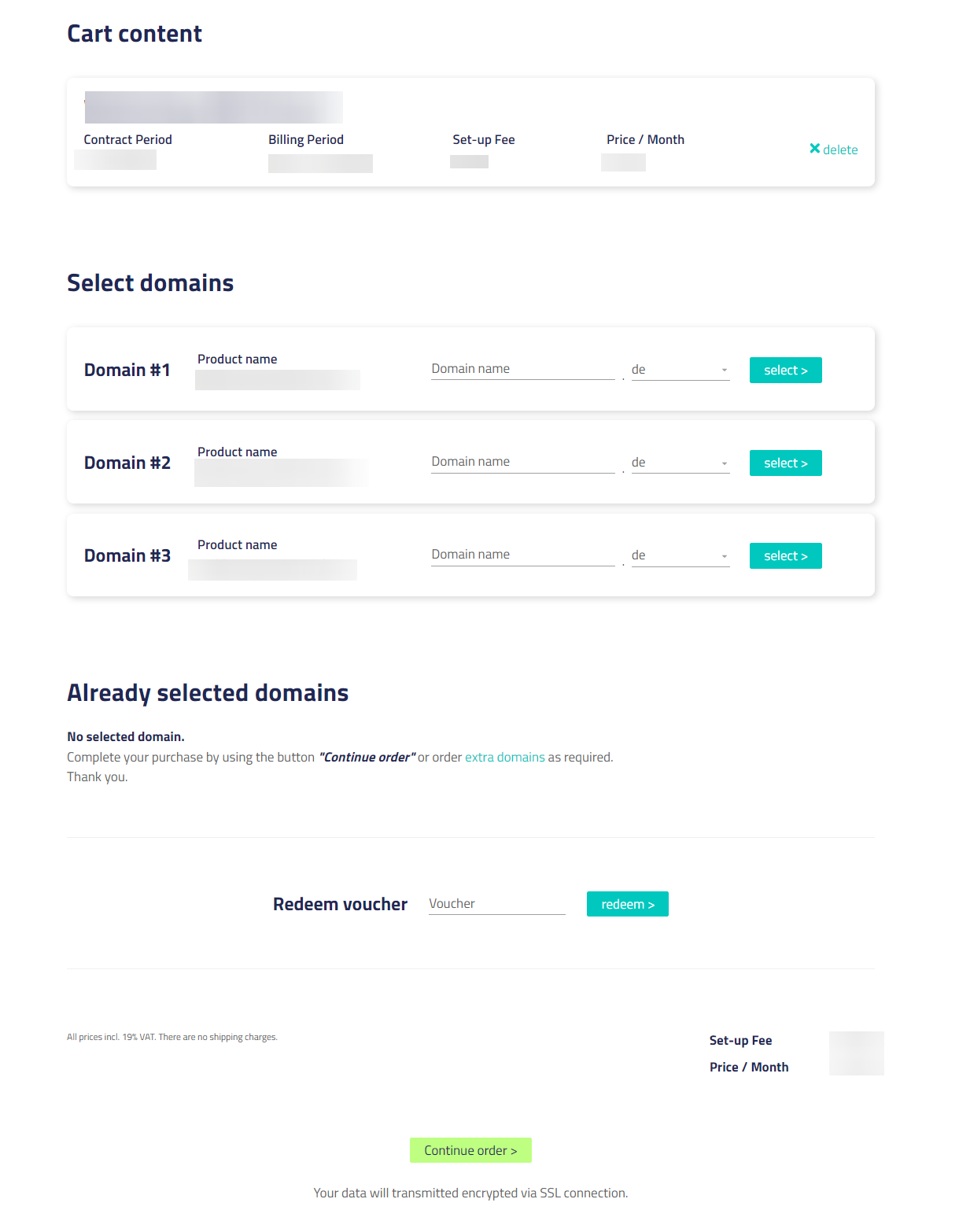 4. netcup account
To continue the order process, you need a netcup account.
On this page, you will be asked to provide information about yourself.
I am an existing customer

If you are already a netcup customer, enter your customer number and your password in the designated fields:
I am a new customer

As a new customer, you will be asked to provide us with your name, address details, and a phone number for verification. We handle this information safely and responsibly.

Once you have entered all your personal data, click on the "Save address" button at the bottom of the page.
Once you have entered all your personal data, click on the "Submit address details" button at the bottom of the page: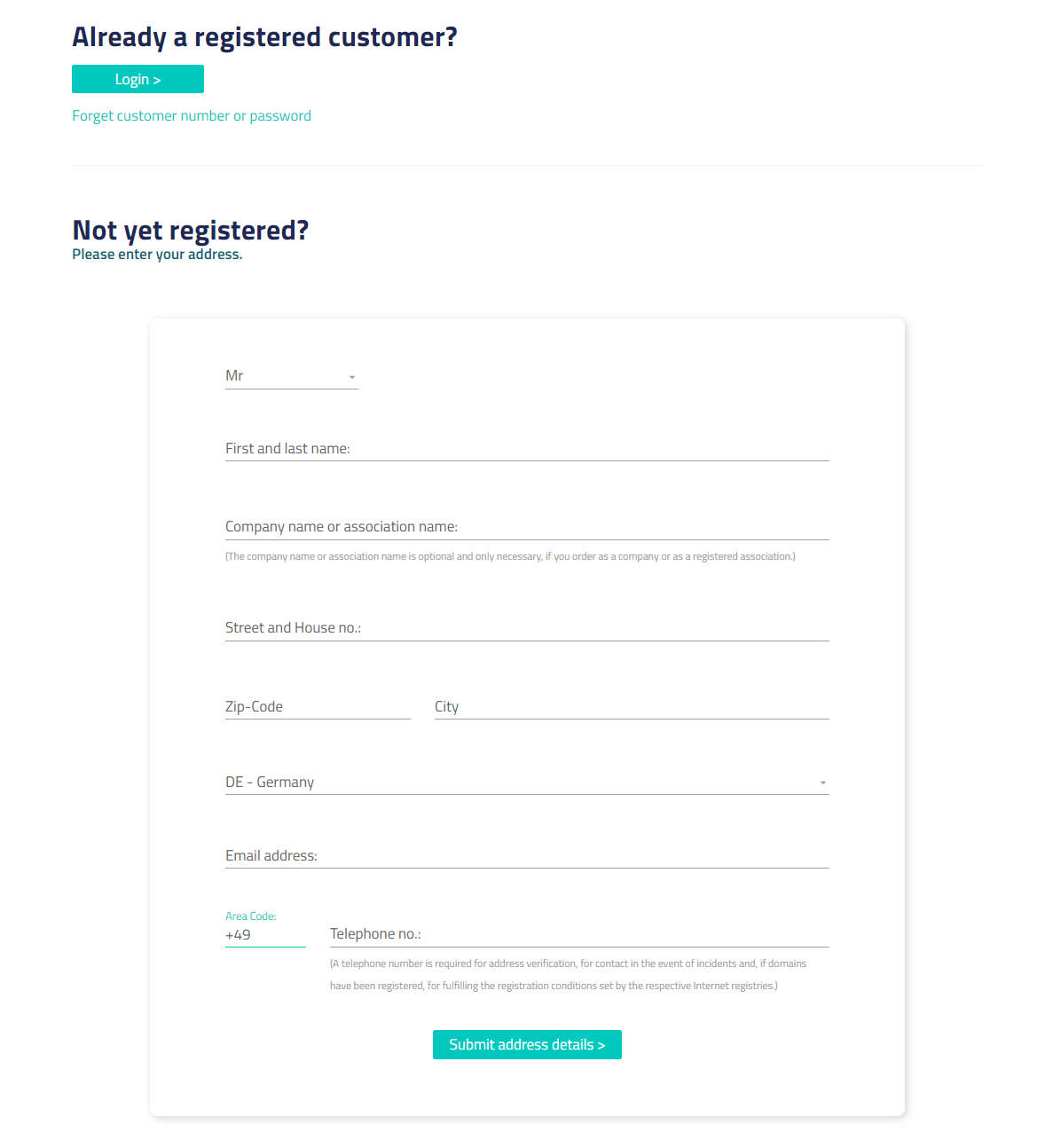 5. Order overview
After you have logged in or created a netcup account, you will be redirected to the order overview page. This page gives you a final overview of the products you are ordering, your address and contact details, and the prices. You will also be asked to read our terms and conditions, our privacy policy, and our withdrawal instructions. After reading these, you need to accept them by ticking the checkboxes at the bottom of the page.
You can complete the order process by clicking the "Continue order" button at the bottom of the page.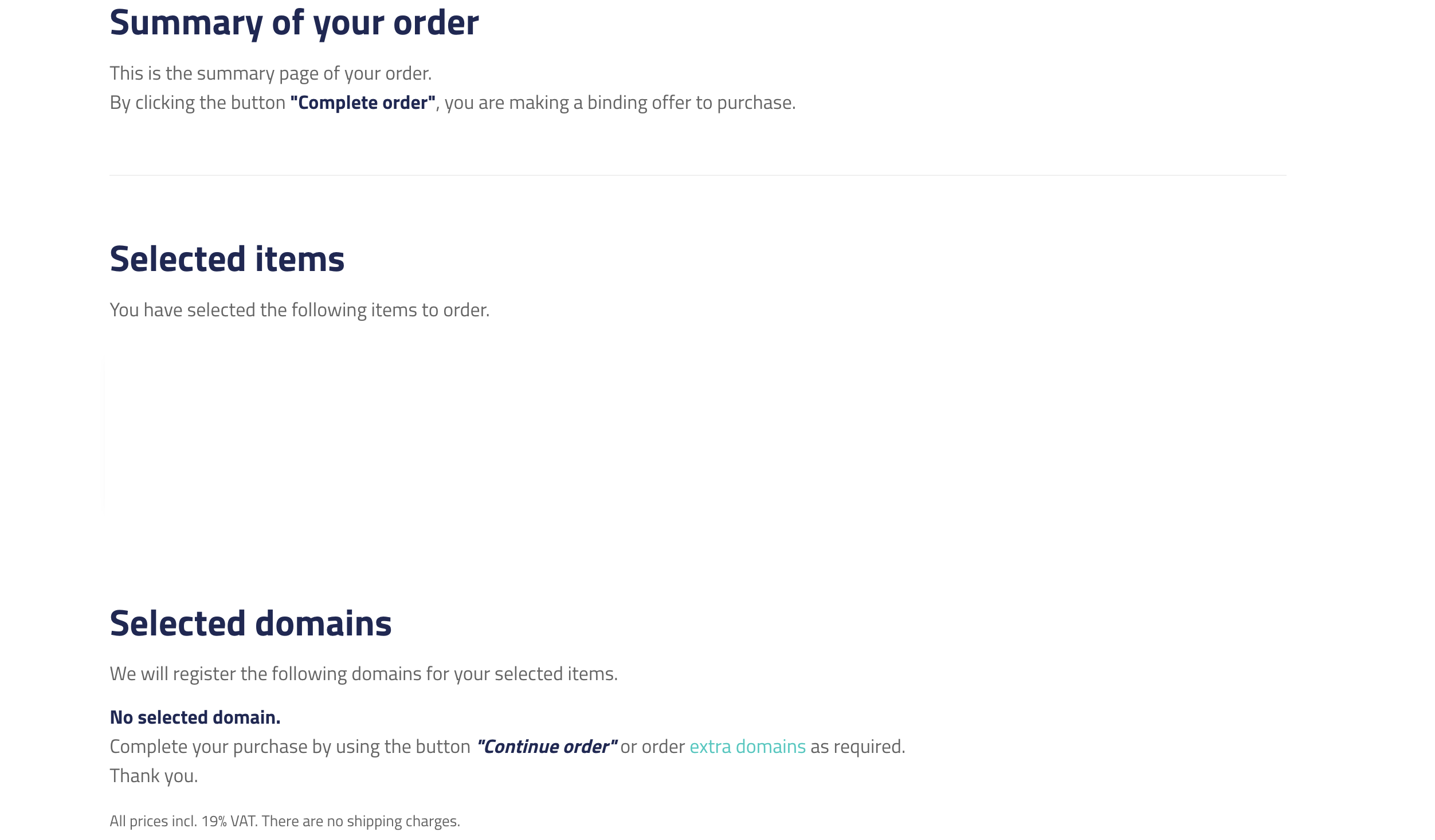 6. Success
You have successfully ordered a netcup Webhosting Instance and will receive further information at the email address provided in step 5.